Sep 06 2012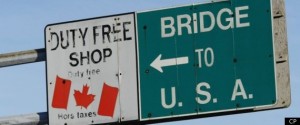 Have you ever wondered why your fellow Canadian get so excited about crossing the border to visit American to go shopping? There are several reasons actually but one main trigger of this shopping-cart temporary migration is that every now and then the Canadian dollar (CAD) is on par with the American dollar (USD). This makes shopping in the US an extremely exciting and valuable experience. With the continuous evolution of e-commerce and online shopping, we are seeing something of a decline in this cross border shopping trend. Especially when you can get anything from cheap promotional mugs to discount Louboutin shoes on the internet, it is hard to envision that savings-savvy Canadians are still going to want to make the trip over – but still they do. We may have a little insight as to why:
Sometimes you can only get certain things in the US:
As great and as vast as Canadian shopping is, the fact remains that there are some US-only stores that exist that Canucks are very jealousy over. In the US there are some stores and highly recognizable brands that are Canadian-coveted and one such example is Target – or as it is lovingly referred to by raving fans, "Tar-jay". Does it seem like a lot of effort to cross the border just to shop at Target? Maybe, but Canadians are hungry for savings and Target provides them with some basic essentials and even things for the home that are stylish, functional and affordable. Of course, we have discount stores here in Canada but the fact is that some of the goods are just not as fashionable or affordable, even after the exchange rate is factored in. another example of why Canadian cross the border is that certain stores that are available online like J. Crew, have brick and mortar operations in the US. Shopping directly in the stores allows them to enjoy deep in-store discounts and completely shirk the often sky high shipping costs that incurred to get items to their front doors.
Canadians do love a good bargain, and they can find good deals in the USA. To even get better bargains, consider coupon codes from answers.com to get the satisfaction of bargaining you'd like.
Many times you can get a wider variety in US stores than in their Canadian branches:
There are many US stores that have branches on Canadian land and while they carry some great lines, often times they don't carry all of the lines or the lines they do carry are limited. A good example of this is the brand Anthropologie. With only one single store in Toronto, the Canadian line is very limited and doesn't comprise all the offerings that are available to the American shoppers. For consumers this is very frustrating because when you see something online that you really like, you expect to be able to go to the store and purchase it – this is just not the case. For specialty items you may want to purchase you are confined to buying them online and as we've already discussed, shipping costs are exorbitant – they can sometimes be double the cost of the actual item itself! This is why Canadians are happy to pack up and make the trek to the US – value, variety and versatility!